Pastoral Search Updates
First Presbyterian Church names Rev. Dr. Brian Coulter as Pastor/Head of Staff

The Pastoral Nominating Committee (PNC) for First Presbyterian Church of Fort Worth joyfully announces the Rev. Dr. Brian Coulter was elected by the congregation on February 7 to serve as the next Pastor/Head of Staff.
Brian joins our congregation from First Presbyterian Church in Aiken, South Carolina, where he has served as Pastor/Head of Staff since 2014. He also serves as a Congregational Consultant for the Presbyterian Mission Agency, and previously served as Associate Pastor of Trinity Presbyterian Church in Fairhope, Alabama. He and his wife Megan have two daughters, Annabel and Paige.
Click here to read Brian's Statement of Faith and Journey of Faith.
Brian is a fifth generation pastor who states that he was "born, baptized, raised, confirmed and ordained within the PC(USA)." He received his undergraduate degree (B.A.) in sociology from Oklahoma State University, his masters (M.Div.) from Columbia Theological Seminary, and his doctorate (D.Min.) from McCormick Theological Seminary through the Association of Chicago Theological Schools program in homiletics.
The PNC said in a statement, "After a thorough and prayerful 14 month search, we are grateful to have been led to Brian and honored that he felt called to our mission of 'Inspiring Disciples and Engaging the World.' Our world class, divinely-inspired pastoral staff has guided our congregation through the challenges that our transitional time, a devastating pandemic, and the ongoing spiritual needs of a large and diverse congregation, have demanded. We are profoundly blessed by our pastors and our staff, and are thrilled that we have found a partner and a leader in Brian Coulter. We ask for your prayers for our congregation, Brian, and his family as they prepare for a move to our wonderful city."
Continue to watch this space, FPC social media, and the Penn Street Online and Penn Street Letter newsletters, for a more in-depth introduction to Brian and his family over the next few weeks.
Members of the FPC PNC are Brian Cunningham, Mike Henry, Barbara Martin, Ann McKinney, Merianne Roth, Michael Salazar, Margaret Sudderth, Jane Sykes, and Patrick Sheppard, chair.

---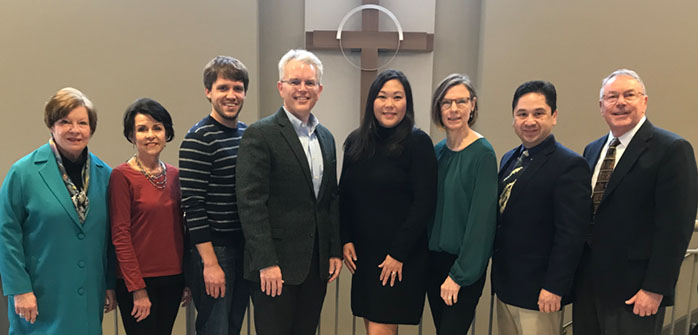 Members of the PNC (pictured above, left to right): Jane Sykes, Ann McKinney, Brian Cunningham, Mike Henry, Merianne Roth, Margaret Sudderth, Michael Salazar, and Patrick Sheppard, Chair. Not pictured: Barbara Martin and COM (Grace Presbytery Committee on Ministry) liaisons the Rev. Michael Thompson and Rev. Dr. Richard Culp. Meet the PNC. Pictured below, the PNC during a recent Zoom meeting.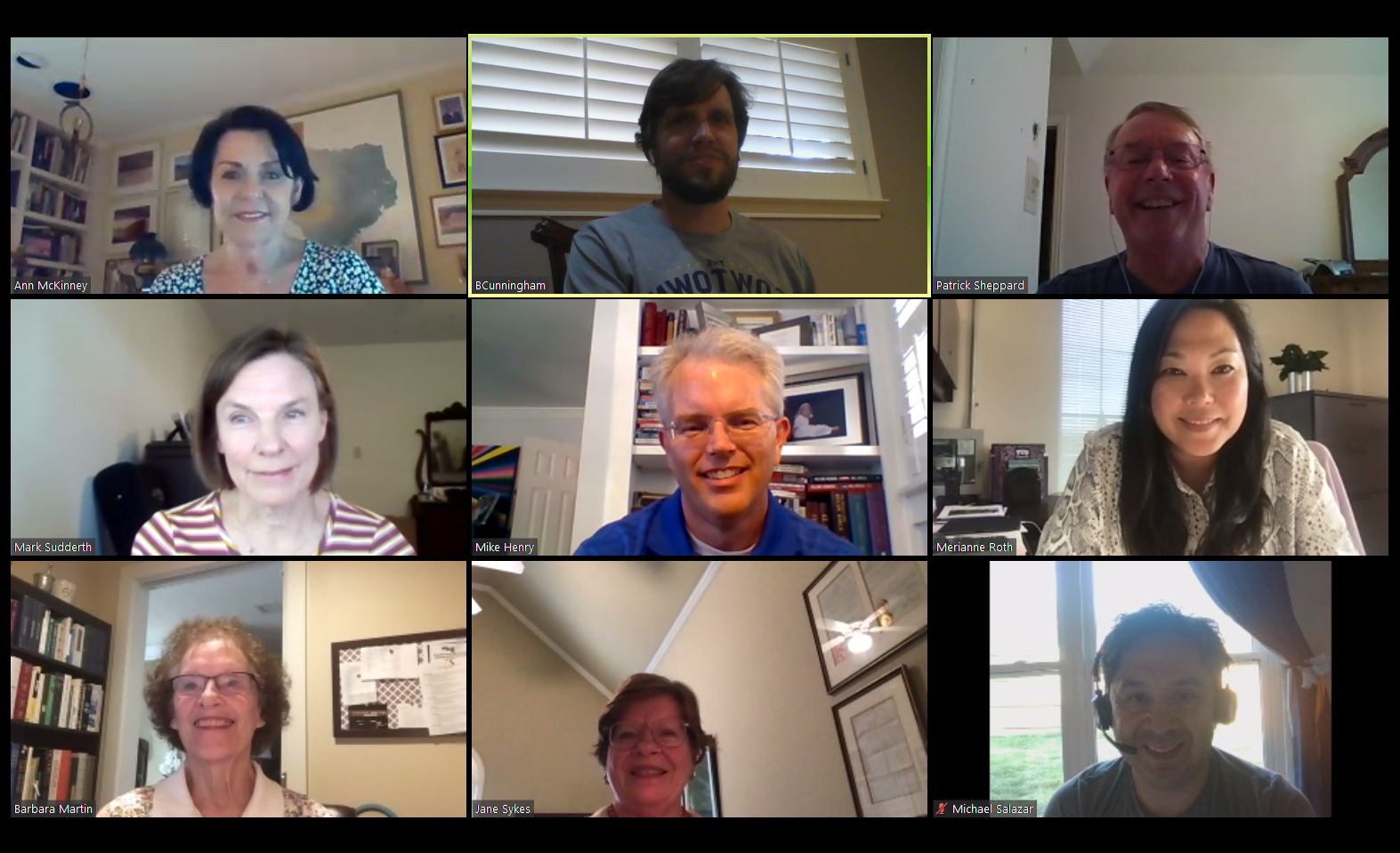 The Pastor Nominating Committee (PNC) for First Presbyterian Church of Fort Worth was elected by the congregation in November 2019. The PNC has been asked to prayerfully search and then nominate a head of staff for election as the next pastor for our congregation.
NOVEMBER 2020 UPDATE:
Well it's been a couple of months since our last update and we wanted to let you know of the progress we are making.
We have listened to hundreds of sermons, read books by pastors, studied homiletics, and listened and prayed intently for the Holy Spirit's as well as our own discernment for that pastor who God is guiding us toward. We have slowly narrowed our search to those few candidates that we feel are being called to First Presbyterian Church, Fort Worth.
We had our first in person visit the first week of November and got to show them around Fort Worth and spend time at the church showing what a beautiful facility we are blessed with. They also got to meet the pastoral staff and get time to share with them. One thing I am finding during this entire process is what a "small community" Presbyterian pastors really (there are so many common connections) are and how much love and kinship there is shared among all of them. We are truly blessed to have such wonderful pastors, not only on our own staff but from which to choose in the denomination.
The highlight was visiting our church's more significant mission projects Friday morning. Our visitor was amazed at the extent of the Presbyterian Night Shelter complex and the work we do with Community Crossroads. He praised Toby Owen for his dedication, love, and commitment as well as Dori's enthusiasm and our own Robyn for all the work they do as well as the large number of volunteers that keep it all running.
We shared meals together, usually picnic style lunches in our beautiful Trinity Trails park system, then dinner, one at an outdoor restaurant and the other at one of our committee member's homes. We were able to share great fellowship and food nurtured in the love of Christ. It helped immensely with deep prayer and discussion in working toward that pastor God has intended for us. It was a wonderful and exciting visit, and we hope to continue the process. We found it so much more fulfilling to be able to see each other in person and share our time together. Community is one of the fundamentals of church and this came through loud and clear with this ability to finally meet and share in person.
We will keep you continually informed as we are beginning to see "the light at the end of the tunnel." We only ask for your patience, perseverance, and prayer as we continue to do God's work for our church. Peace!
AUGUST 2020 UPDATE:
Your PNC has been diligently at work even during the COVID-19 lockdown, and the beauty of technology is that we have been collecting a large number of referrals and can watch many of the potential candidates actually preach and also read other material that they have published in journals, etc.
We are beginning to narrow our search and are in conversation with several highly qualified individuals. We even hope to be able to meet the spouses on a Zoom session. As always, there is much discussion, praying, and all the rest of the 9 "Ds" from the video. We continue to work on our discernment, always looking toward the individual that God has in mind for us, and we ask that we continue to be in your prayers.
MAY 2020 UPDATE: COVID-19 has not slowed the progress of the PNC, though it has altered our mode of communication. Despite the inability to meet in person, we continue virtually as our congregation does, on zoom, over email and document sharing, and by conference call.
The PNC is actively receiving referrals, reviewing and communicating with potential candidates from across the country. We prayerfully consider all information and candidates that are presented; our process is thorough and is vetted through the creation of subcommittees. We expect this process to continue through the fall.
We are heartened by the number of Presbyterian leaders and individuals that know of our search and hold our congregation, our pastors, and Karl, in prayer. Thank you for your continued patience and prayers.
Respectfully, The Pastor Nominating Committee
MARCH 2020 UPDATE: After several weeks of preparation of the MIF, the Pastoral Nominating Committee (PNC) has moved into a new phase of our work - the review of potential candidates. We are at the very beginning of this process.
---
The chart below illustrates the process for calling the new pastor, and indicates First Presbyterian Church's progress.
The Mission Study has been approved by Grace Presbytery, and the PNC has completed the Ministry Information Form (MIF), a document that summarizes our wishes for a pastor. The MIF has been posted and we are currently receiving information from interested and qualified pastors.
If you would like to know more about our mission and prayerful search for leadership, please read the Mission Study and the narrative portion of our MIF:
The PNC will continue to provide updates via this website and the Penn Street Letter and Penn Street Online newsletters.
The PNC requests your prayers for patience and discernment during this time. The Session commends the following prayer written by the Spiritual Formation Subcommittee for use during the pastoral search. Please lift this committee in prayer:
Holy God,
We praise and thank you for your steadfast love of our church and humbly ask your guidance and blessing as you lead us to the pastor you are calling to this place.
Nurture and guide your servant for sharing ministry among us. Prepare our hearts to receive his or her gifts.
Give us the courage to speak truthfully and compassionately, so that we might be a building up of Your church. Teach us all the way of Jesus: to walk humbly with you, seeking justice and mercy.
Joyfully, we thank you for your Holy Spirit who enlightens and enlivens the path for each of us.

In Christ's name we pray, Amen.